Rexuiz FPS
A downloadable game for Windows, macOS, and Linux
You don't know how to spend your free time at the computer? Do you want a sea of action and experiences? Then the Rexiuz - this is what you need. Shooter made in best traditions of classic and modern games. However, even low end and old computers or ultrabooks are able to run it smooth and, of course, pleasant. Stop wasting time on boring games - come and play it, game is completely free!
Last Update(02 Jan. 2018)
Bug fixes and code improvements
Zapper weapon on Q3 maps
In-game menu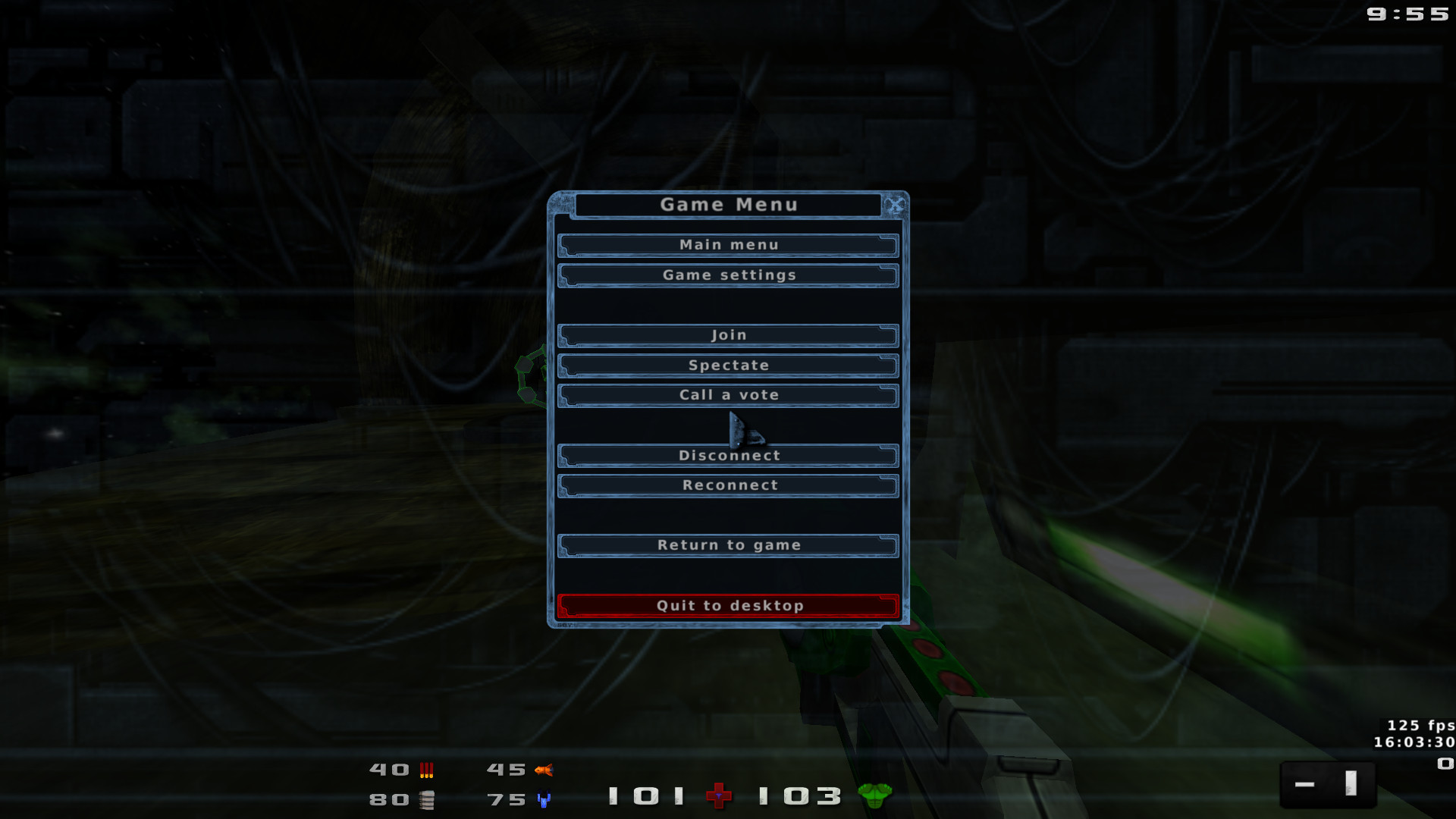 Features
9 basic weapons with primary and secondary fire modes
Different game types available: Deathmatch, Capture the flag, Team Deathmatch, Freeze Tag, Clan Arena and many more
Bunch of online servers with different modes and gametypes available
Updated game engine
Updated and optimized game code
About
It should be noted that Rexiuz is modernization of a beloved online shooter Nexuiz Classic. Its history began about ten years ago - developers of AlienTrap published a simple, but very exciting free online 3d shooter that immediately attracted the attention with its dynamic intense fast paced gameplay and nice graphics. At the moment, the project is gaining momentum and we want to present it to you.

(This game is in developement, so expect a few bugs here and there)

Controls
WASD + mouse(left button - primary fire, right button - secondary fire, middle button used for zoom by default)
1-0 keys used for weapons
TILDE or SHIFT+ESC for game console
TAB key shows score table
SHIFT key for crouch
T key used for chat
Check Settings menu->input section for other key binds
All key binds can be customized in Settings menu->input section
How to play
We recommend you to try your skills in single player campaign against bots and join online servers afterwards, but actually its not necessary, your skills will improve in online matches much faster.
Depending of the game type:
FFA(Deathmatch) - just shot to all enemies roaming around
TDM(Team Deathmatch) - shot opposite team players
CTF(Capture the Flag) - try to get the enemy flag and bring it to your base
Clan Arena - team survival game with limited ammunition amount
Conquest - Battlefield like game play. Capture control points on the map to control all the map.
FreezeTag - Freeze enemies by killing em. revive your frozen teammates staying close to em.
Check the other game types in Multiplayer->Create section of menu
| | |
| --- | --- |
| Published | Apr 04, 2017 |
| Status | In development |
| Platforms | Windows, macOS, Linux |
| Rating | |
| Author | rexuiz |
| Genre | Shooter |
| Tags | 3D, deathmatch, Fast-Paced, First-Person, Multiplayer, Team-Based, Violent |
| License | GNU General Public License v2.0 (GPL) |
| Average session | About a half-hour |
| Languages | English |
| Inputs | Keyboard, Mouse, Joystick |
| Accessibility | Configurable controls |
| Multiplayer | Server-based networked multiplayer |
| Links | Homepage |
Download
Click download now to get access to the following files:
Rexuiz-2.5.2-180102 ~970Mb Direct Link
Rexuiz-2.5.2 Latest from sourceforge
Comments
Log in with your itch.io account to leave a comment.
please insert to indirbak the games

Thanks for sharing this game i really like this
I see you have based your game on the Nexuiz. Not trying to sound rude, but how does this game differ from Xonotic, which unofficially is the successor to Nexuiz?
EDIT: I accidentally posted my comment multiple times because itch.io lagged. Deleted the duplicates
Sure. Trying to be polite too :)
At first, thanks for your interest.
Lets say, Rexuiz not trying to solve "problems", which never exist in Nexuiz.
We also trying to keep the original gameplay of Nexuiz, not change balance of weapons or physics if its unnecessary.

this is just a copy of another game called "another game" which is much better then this
edit:(as far as "another game" developers ban us everywhere, we do not allow to mention it here. hope for your understanding)
Rexuiz is a continuation of developement of Nexuiz Classic project which was, by the way, abandoned by "Another game" developers. They were asked many times to bring back Nexuiz Classic gameplay to their game but they refuse to do so, their motivation being imposing their own interpretation of what game balance should be and forcing what they called "pro duel gameplay".
And it`s rather amusing hearing about how "Another game" is much better and how Rexuiz is "just a copy" of it while at the same time they are implementing features that have been presented in RocketMinsta Rexuiz|Nexuiz mod for years ago.